Jim Perez – CPTED Expert/International Trainer (Crime Prevention Through Environmental Design)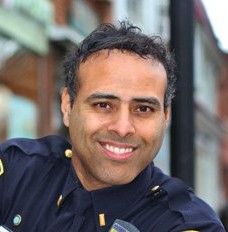 James Perez, CPTED Expert ( Crime Prevention Through Environmental Design/International Trainer/Practitioner
LT. James Perez 2018
Lieutenant James Perez is currently employed by the Fairfield Connecticut Police Department and has 27 years' experience in Law Enforcement. He has held many positions within the agency including a task force member with the Federal Bureau of Investigation and the Drug Enforcement Administration. He has taught the D.A.R.E. program in elementary school and was a member of the S.W.A.T. team for 14 years. During his tenure on the S.W.A.T. team he responded to an incident involving an alleged bomber holding 19 college students hostage at Fairfield University. Lieutenant Perez has appeared in several publications and held the position of Public Affairs Officer.
James teaches Identity Theft and Scam awareness topics to community groups and has appeared nationally on NBC's Dateline regarding Scams against senior citizens. He is also a consultant and trainer for The National Crime Prevention Council in Washington D.C. He is also certified by the Financial Industry Regulatory Authority (FINRA) to teach Investment Fraud. He has worked for the U.S. Department of State, U.S. Embassy in Nicaragua providing a variety of crime prevention services.
He regularly teaches Workplace Violence and Active Shooter, for the Protective Service Advisor (Doug Pesce) of the U.S. Department of Homeland Security in Connecticut and Massachusetts. He has also trained staff at Columbia University in New York City and Yale University in New Haven as well as employees at General Electric World Headquarters. He recently trained the Town of Essex CT in Active Shooter. He has trained police departments around the country in Crime Prevention Through Environmental Design.
James was recently featured in The Connecticut Network State of CT. Capitol Channel for School Safety. He is a State of Connecticut certified Active Shooter Trainer and was featured by The New York Times regarding his workplace Violence and Active Shooter Programs. He was recently the Commander of the Special Services Division which oversees police operations, including the Marine Division, Dive Team, Special Agent program, Crash Investigators, Traffic Officers, Animal Control and fleet management. He is currently the shift Commander in the Patrol Division after being in the administration division in charge of Public Affairs. He also has experience in Terrorism Risk Assessment and has extensive experience in Crime Prevention through Environmental Design or (CPTED).
He attended the University of New Haven (Criminal Justice) and Central Christian College in Kansas, has a Bachelor's degree in Criminal Justice Administration, the Connecticut Police Academy and F.B.I. Law Enforcement Executive Development Association. During his career he has earned citations from F.B.I. Director Louis Freeh and Connecticut Attorney General Richard Blumenthal.
James has been recognized for successful criminal investigations against several violent gangs. He also received the Combat Cross Award for involvement in a Police shooting. Jim has trained Law Enforcement Officers from Canada, Northern Ireland, Australia and Nicaragua, as well as throughout the United States. He was also selected in 2016 as employee of the year in the town of Fairfield Ct.