Did you know that Health goes through the kitchen and not through the pharmacy?
Remember the comfort foods as a little child?
Our wonderful friend Cornelia Zurawczak in Germany has shared some great memories back to the childhood in poem-style. We get to know Cornelia (Conny) a little later, but first the memories.
Taking you back to your childhood, what food comes to mind that you loved the most ? It could be a cereal, ice cream, a soup – in this case it was GRIES BREI.  A Cream of Wheat or Semolina Porridge….every child growing up in the days had Gries Brei in Germany.
My friend Conny, the poet had just posted a picture of this delicious memory and I got excited, yes I liked it as a child and it took me back to the childhood. So I challenged Conny to write a poem and sure enough, within 3 days she created the poem and it goes like this:
I was inspired by Mariette Kammerer, who liked my choice of dishes a few days ago. She asked if I could write a poem about it too. Here it is:
"Semolina porridge"
Sometimes the stress is enormous and the duties are never quiet.
There really is only one thing left to do, a warm, sweet dish.
Made very quickly, is a delicious semolina,
in which I then let something trickle in addition.
Someone just likes it, just plain with milk and sugar.
Some people want it very well, even with egg and butter.
Raisins and coarse nuts are also a recipe for the heart.
Egg white makes it fluffier, just as cream tastes good.
Then the sweet scent fills our little kitchen.
The aroma makes me happy when I smell it.
Quickly scraped out the pot completely, into the deep plate.
Brushed up with your finger makes the mood lighter.
Then it fills the pinched mouth warm and comforting.
He relaxes more and more, for a good reason.
Blissful hours in childhood, it soon travels.
A satisfied sigh, sweet, resounds from the mouth.
Then licked the spoon, warm comfort to the stomach.
Far from everyday worries and daily complaints.
I feel so warm and beautiful.
A semolina as sweet as sugar, heaven can be.
Zurawczak in January 2021
Thank you Conny, we love you!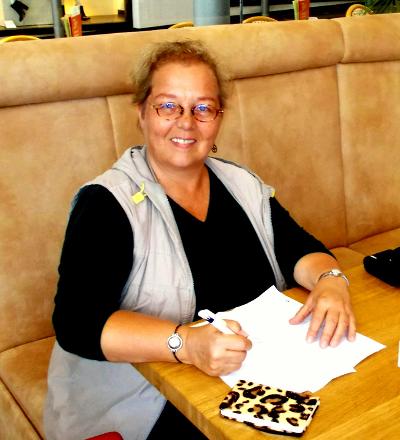 Cornelia Zurawczak, German Poet, Former Registered Nurse of 25 years. Following education in naturopathic psychotherapist and Office Administration.